If you read my post about A Year of Intentionality you know I am on a journey to be more purposeful in all areas of my life. Well I am two months in and I must say I am loving this new focus. Asking myself the two questions below has weeded out so many things that have come across my plate. If I can't answer yes to both I don't do it.
Is this life giving?
Is this of eternal importance?
I recently read an article on tips of highly organized people and although it was meant for organizing material objects in life I found it useful in thinking of your time and energy. Read the list below and instead of picturing that messy kitchen drawer picture the events you attend, the boards you are on, the ministries you are committed to, relationships you are maintaining and other areas of life that take time and energy.
Write things down
Give everything a home
Keep only what you need
Make schedules and deadlines
Delegate
De-clutter regularly
Stay away from bargains
When I look at this list with that perspective it got me pondering about how I needed to ensure every commitment and responsibility was purposeful. I started with #1 – Write things down.
By listing all the groups, ministries, events, commitments, etc. I was involved in I could weed out those things that I felt were unneeded or an area the Lord just wasn't calling me to at this time. I also needed to look at the other areas of life such as laundry and cooking that need to get done on a regular basis. As I looked at these lists I moved on to #2 – Give everything a home and figured out categories for anything and everything that I do with my time. As I began placing these commitments and responsibilities into categories I moved on to #3 – Keep only what you need by finding those time sucks for which I couldn't answer yes to both questions above. This step went hand in hand with being purpose driven. My two questions gave me something to measure all those commitments and responsibilities up against. If they fell short of the mark then they had to go.
Below you will see the final lists I came up with. Everything I do or that comes across my plate falls into one of these categories.
Commitments
Church
MOPS
Preschool
Church women's bible study
Personal blog
Contributing writer for the Right Start
Other Responsibilities
Finances – budgeting and bill paying
Food – Menu planning, grocery shopping and cooking
Cleaning & Laundry
Home, family, and car maintenance – doctor appointments, oil changes, gardening, etc.
Ministering to friends and family – bringing meals, babysitting, discipling
Maintaining relationships – date nights, girls nights, phone calls with distant family, family outings, birthday parties
Personal time – Bible reading, exercise
Next I began #4 – Make schedules and deadlines. I went through my days, weeks, and months scheduling each of these commitments and other responsibilities that needed to be handled.  It's amazing how fast you can fill a calendar. I want to mention the importance of not overscheduling yourself. One thing I did was look for areas that I could trim down in time commitment. For example I only chose for Little Man to attend two days of preschool instead of three so I could use that extra time for other things such as playdates with friends or relaxing at home. This came in handy this past Monday when we had NOTHING planned and we got to spend a leisurely morning hanging out at home. I was even able to involve Little Man in helping clean the house!
There are a lot of ways to schedule but I really like having a weekly schedule posted on the fridge for everyone to see. Here's a free printable calendar I like from Living Well Spending Less. Just click on the image to go to the downloadable link.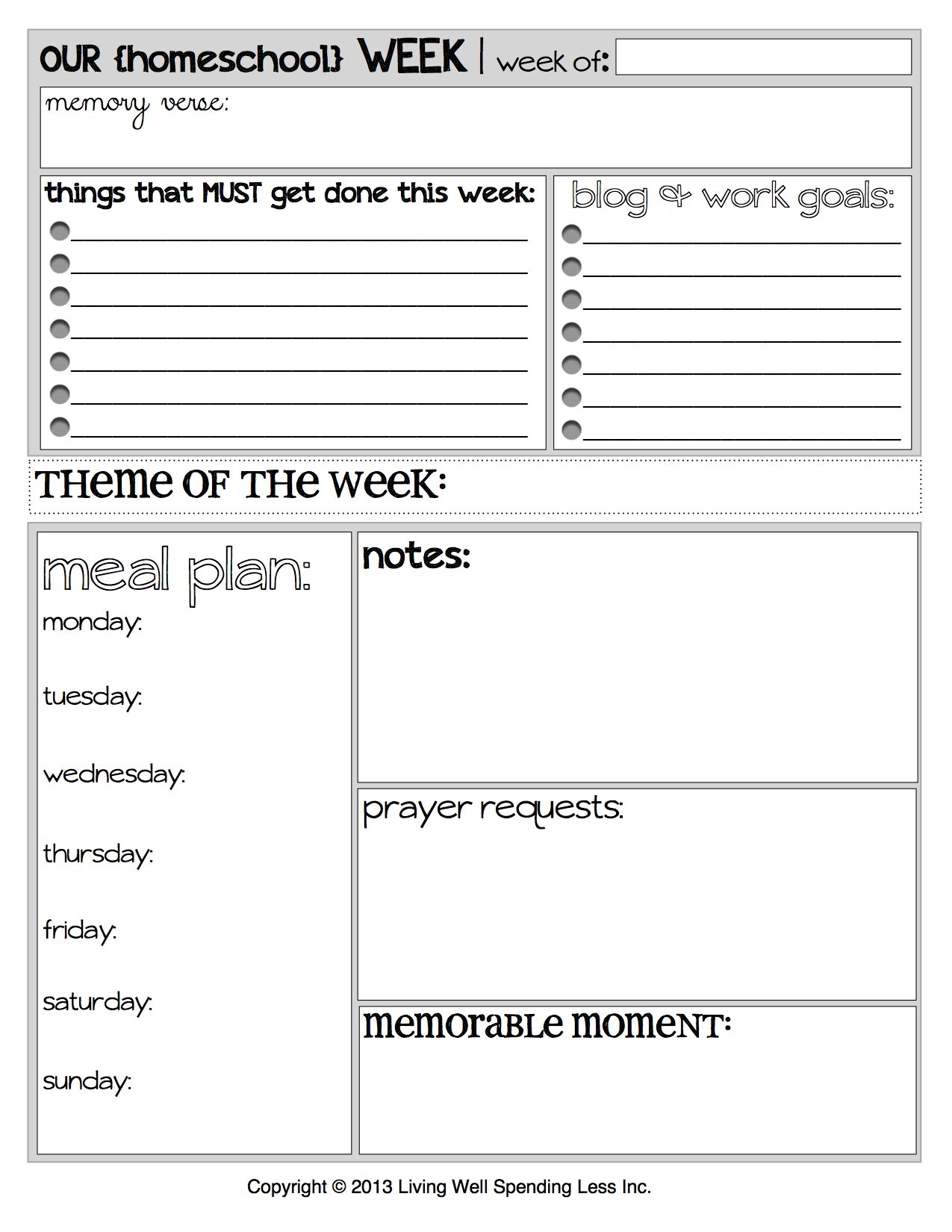 Moving down the list #5 – Delegate. I can not emphasize enough how important this was for our family. I am going to admit to you all that I do employ the help of a gardener and cleaning ladies from time to time. We decided that having John spend 4-5 hours every other weekend out in the yard was taking away from another category that we felt was more important, family time. We are both quality time people so relationship building is more important to us than cleaning or lawn maintenance. Now I know this isn't an option for everyone but we trim back in other areas to make this a reality for us – it's worth it for our family.
The last two tips #6 – De-clutter regularly and #7 – Stay away from bargains have been a huge help in maintaining what I have already organized. Just like how in shopping you can fill your cart with a bunch of junk on sale, I have found that in life you can fill your schedule with a bunch of things that sound good at the time but in the end don't have any lasting value. When I get invited to a fun blogging event or am asked to sing at church I have to go back through my process of elimination to see if this is where I need to be spending my time.
Even though it took awhile to create it's so freeing to have a process of organization for life.
What tips do you have for how to organize your time?